Current Version: v2.2 build 1342
Released February 25, 2022
If you've been calculating your accuracy by measuring the two shots furthest away from each other, you've been doing it wrong! Click here for a nerdy and tedious explanation of why you've been doing it wrong all these years.
What is TargetView?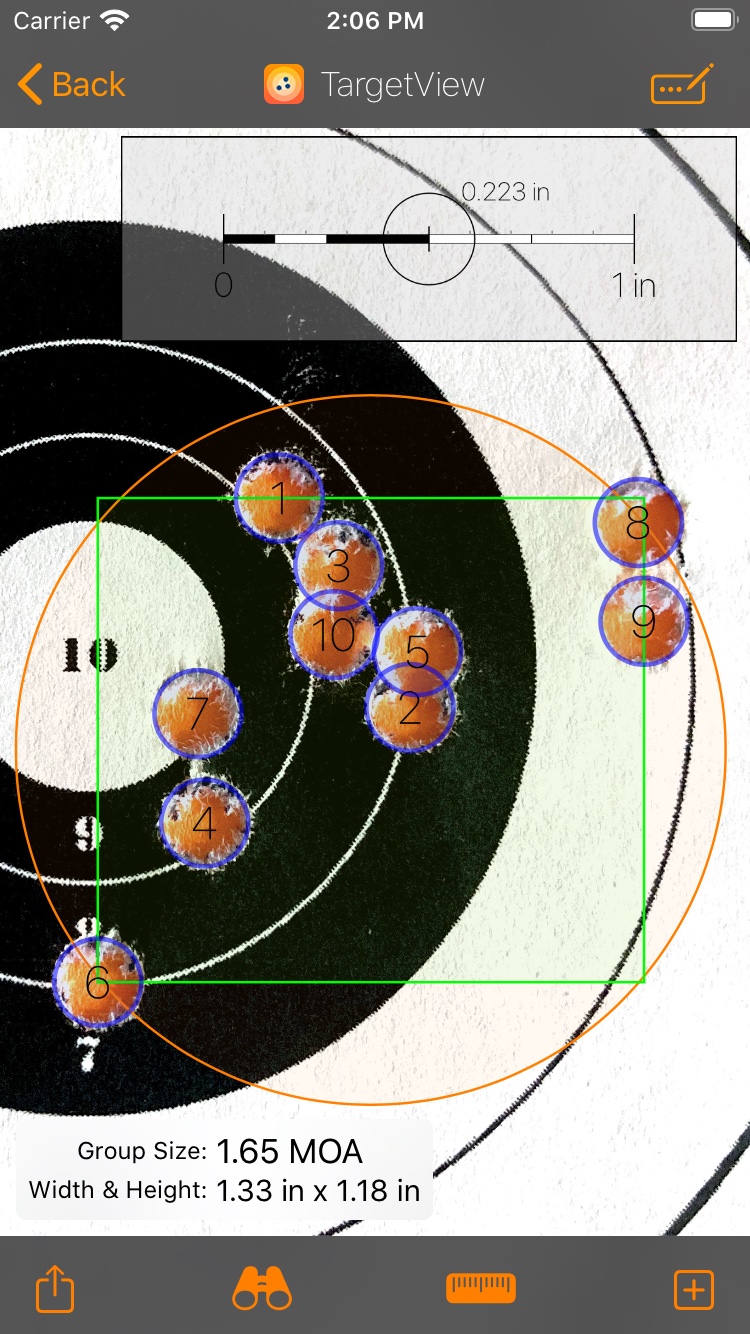 TargetView is the marksman app that measures your shots and calculates your accuracy the right way. Record your firearm outings to track improvement in your marksmanship, and then share your targets with friends for the ultimate bragging rights!
This gun app is easy to set up and intuitive to navigate. Simply add your firearm, the ammunition you used, and place your shots on the image of your target. TargetView has a built-in scaling function so you can scale your target images to get exact statistics. You'll see the true size of your group and the accuracy of your shots with just one button. There is no other firearm app that is as simple, fast, and easy to use as TargetView!
Track your accuracy progress over multiple dates, firearms, and ammunition choices. TargetView saves all your targets so you can reference them later and compare. TargetView also keeps all of the details on your firearms and ammunition so you can keep a good record of all your hand loads, ammo configurations, and equipment information.
Who Should Use TargetView?
The Marksman
For marksmen, TargetView provides the ultimate measurement and statistics tool for calculating the accuracy of firearms and shooters. It also serves as a training record to demonstrate and record your improvements and firearm proficiency.
The Reloader/Handloader
For reloaders and handloaders, this app allows you to test and record different ammo recipes while tracking their accuracy. Record detailed information about charge weights, projectile choices, primer types, and more. You can write and save notes so that you never forget or lose anything!
The Firearms Enthusiast
For firearm enthusiasts, this app gives you a convenient place to keep a database of your firearms.
Coming Soon
Here's all the new features we're working hard on adding to TargetView soon:
Searching, Sorting, and Filtering
More improvements to the scalebar, including custom reference lengths
User-customizeable colors
And More!
If you would like to request a new feature, please don't hesitate to contact me. If you have questions, concerns, or any comments, I'd love to hear from you!